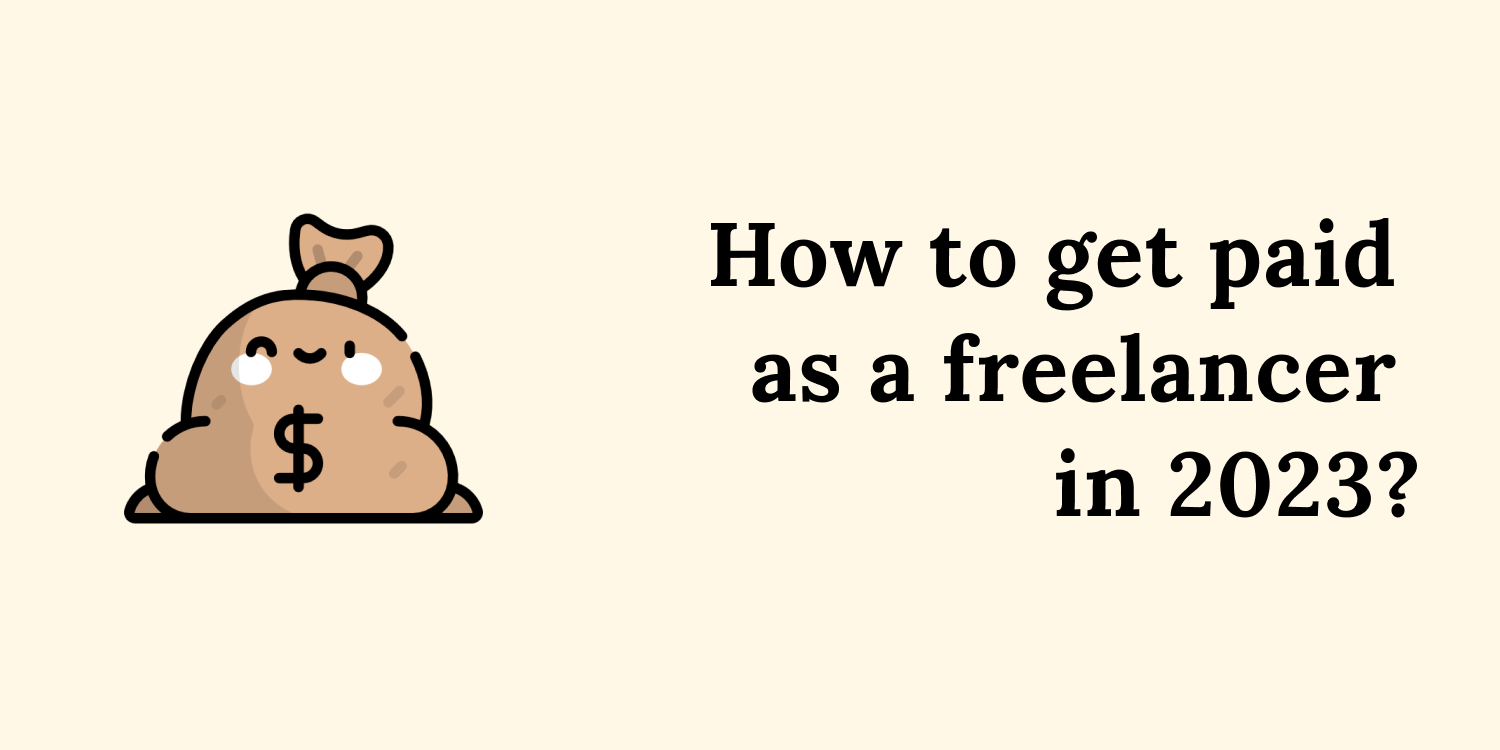 It is the question that you'd ask yourself when you switch from a full-time job to a contractor or a freelancer.
Regular paychecks on a weekly or monthly basis are pretty comfy. But we all choose real freedom and being self-employed over predicted payments and unpredicted managers.
The most common and secure way to start freelancing is freelance marketplaces like Fiverr or Upwork — they handle almost everything for you and that helps newbies to start the journey.
But time pass and you see the fee they take can really be painful.
Other than that the major question is: "How do I get paid from the clients that came to me directly?"
Back in the days in old 2006 when I'd just started freelancing there weren't many options to get paid.
Actually, you had two: bank transfer and PayPal which was the one and only trusted option to get paid online.
But the times are changing, and now there's a multitude of options to get paid from your clients directly available to freelancers today.
The best payment method for freelancers
🥁🥁🥁 You hear drums before the main character comes to the stage.
And it is… the option that is most convenient for your client.
So an obvious answer. But this makes you handle several most popular payment methods so you won't goof with your next client on your solo journey. Let's jump into the topic of how freelancers get paid.
1. Online payments in the USA
It is worth saying that each country has nice local options. But I wanted to stop in the USA because of an enormous amount of freelancers. Over 70 million people have already chosen to be a freelancer.
So there're several options for U.S.-based freelancers that would be pretty handy.
Paypal
,
CashApp
,
Zelle
,
Apple Cash
, and
Venmo
are coming really nice because of their zero fees for you. Also, it would be nice as an easy-peasy option to have less hassle in the beginning.
| | | |
| --- | --- | --- |
| ㅤ | Receiver Fee | Sender Fee |
| PayPal | 0 | 0 charge |
| CashApp | 0 | 3% flat fee |
| Zelle | 0 | 0 charge |
| Apple Cash | 0 | 1.5% + from $0.25 to $15 flat |
| Venmo | 0 | 0 for debit; 3% for credit card |
But you always need to remember that your client may pay for some extras. Don't forget to discuss it and outline: who's covering the sender fees you or your client. Or include them in your proposals.
It will help you to avoid potential conflict and help you look more caring and professional.
2. International online payments
Here come the big guys. The big in the sense of worldwide freelancing and true life without borders. Paypal plays here as well but you should remember that international fees and local fees vary.
| | | |
| --- | --- | --- |
| ㅤ | Fee | Countries |
| PayPal | | |
| Payoneer | 0 for Payoneer users; 3% for credit cards; 1% for debit cards | |
| Wise | | |
| Google Wallet | 1.5% | |
As you see internationally things starting to be a little bit more complicated. But just a little bit.
An important thing to notice is that those providers change their fees rather often and maybe one of them would be comfier in the future.
3. Accept credit cards online
But still, a lot of people do prefer paying with a credit or debit card. Why? It's simple.
You have your card and don't need to top up any service or connect anywhere. The client simply does a checkout and orders a service from you.
But getting the payment from a card is a bit trickier. You need to use some of the payment service providers.
Some of the solutions above could make this happen. PayPal, Payoneer, and Wise also do operate as payment service providers as well.
Square is really nice option for charge in the USA, the UK, Ireland, Canada, Australia, and Japan. They operate only in these 6 countries. A big plus is that you could also handle offline payments with them. They do charge 2.7% for transactions.
Another handy tool is Stripe. They support
47 countries of residence
. This means only residents of these countries or legal entities could create an account.
They do take a
commission of 2.9% + $0.3
for international transactions. But for sure you could win some quid for local transactions cause commissions are lower.
A lot of services, site builders, and commercial platforms do offer to have a seamless integration with your stripe account which make it quite handy to use.
To wrap things up: for sure there's no free cheese. You'd share some of your earnings with the payment service providers but it unlocks the great potential of working worldwide.
4. Old but gold. Bank Transfer
Funds are flowing from the client's bank account to yours. Rather simple as that.
There're some cons like you may face some extra fees, especially for international transfers. The bank charged me $25 for one of the transfers like that.
Another concern is that bank transfers could take several days. Waiting extra days may be uncomfortable whereas online methods work almost instantly.
But still, it's one of the most reliable and secure methods. Don't hesitate to use it once in a while.
5. Old but not gold. Physical check
In the era of online payments, physical checks are still taking place.
You can face this kind of payment mostly working with large companies in the USA.
A rather obvious concern with that method is that the check could be lost and you won't find it in your mailbox. And also it's quite long.
I do think that it's the most uncomfortable option to handle with living a freelancer life.
Key takeaways
Operate several payment methods to delight your customer.
Choose those that are available in your region and propose the lowest commissions.
Don't hesitate to use bank transfers — they're still good and clear. But pay attention to international commissions.
Try to avoid physical checks. You're in 21st-century mate, time is crucial.
P.S. Don't forget that in any case you need to tell your client to pay you. Sending a
friendly reminder
would be one of the most convenient ways to do this.
Written by